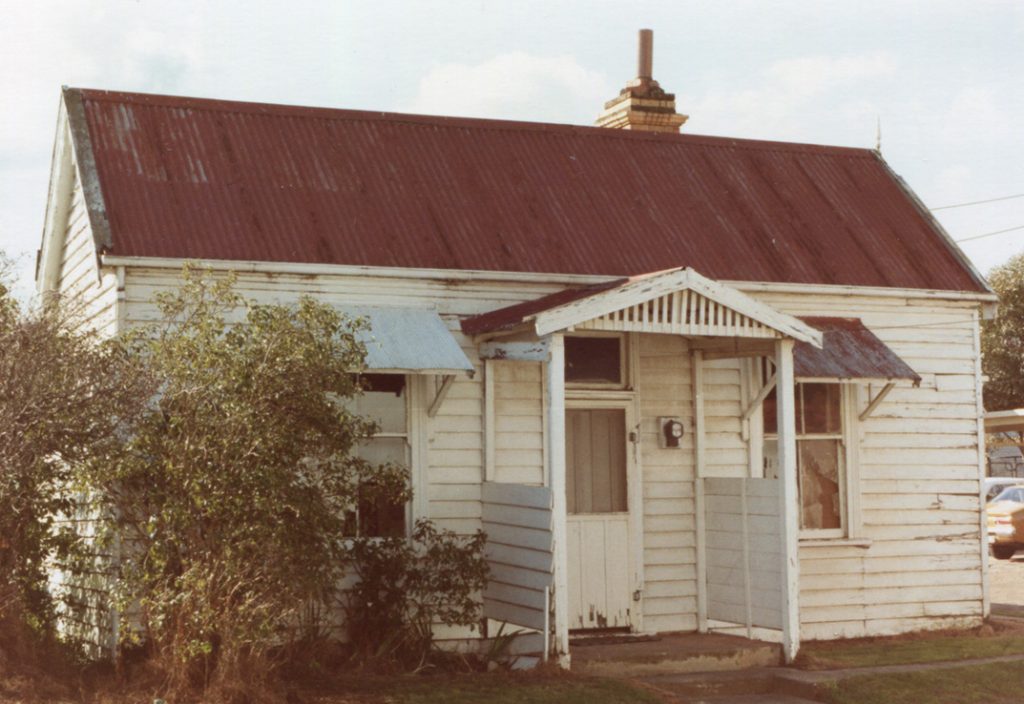 The cottage built for Mr Revell and his family  was located in Pine Street, Cheltenham opposite the Church of Christ Church in Chesterville Road, Cheltenham. It is typical of cottages built in the district in the early 1900's. The above photo was taken in 1983, shorty before the cottage was demolished to make way for a car park for the Southern Community Church of Christ.
The community comes to the aide of a young man stricken with paralysis
In 1914 the citizens of the Moorabbin district, and in particular the Methodist's in the area raised funds to help the plight of Mr Harold Owen Revell, his wife, Matilda Maria (nee James) and their four year old son Stanley James.
Mr Revell, was diagnosed with "creeping paralysis", a former technical name for multiple sclerosis (MS). Mr Revell was a carpenter by trade and was well respected in the Methodist Church for which he was a local preacher.
Members of the Moorabbin Methodist Church banded together to form a committee. A number of activities and appeals were made by the community to raise funds to make provisions for the Revell family.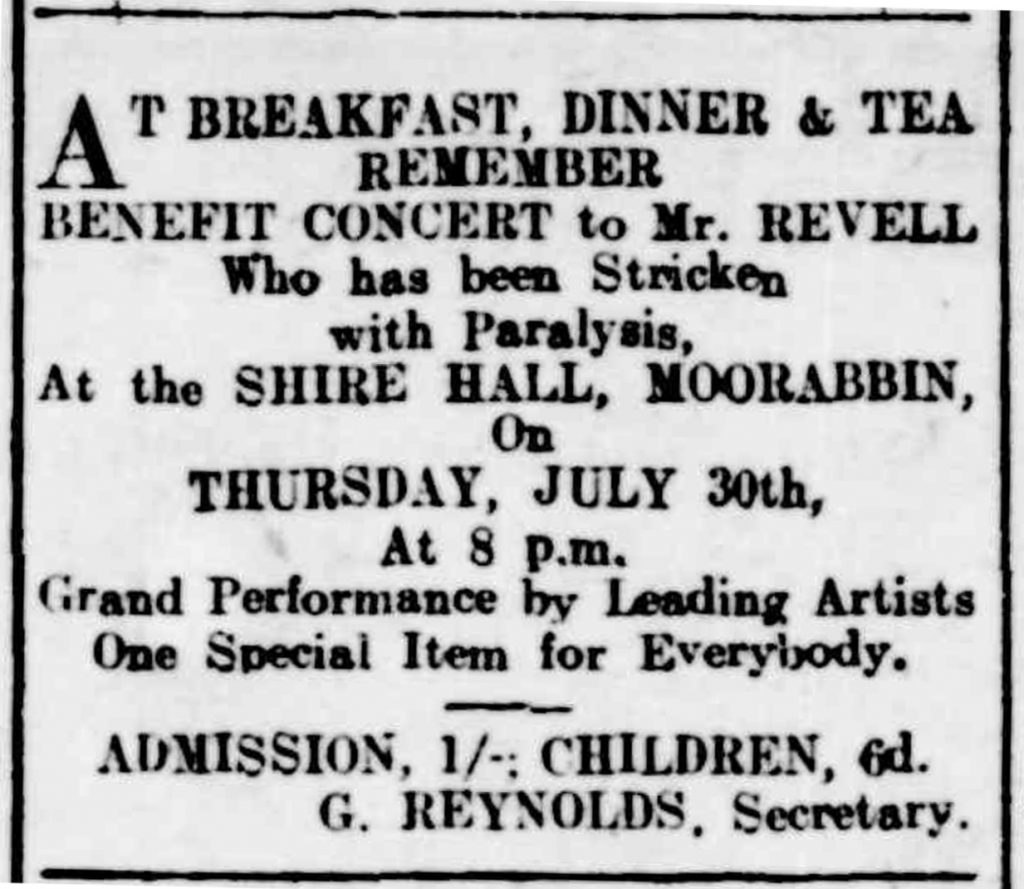 A Concert was held in the Moorabbin Town Hall on Thursday July 30th, 1914. Miss S. Reynolds requested free use of the Moorabbin Town Hall from the Moorabbin City Council to hold the benefit concert in aide of Mr Revell. On the motion of Crs Mills and Marriott the request was granted1. Admission was 1/- for adults and 6d for children. The concert raised £26/10.2 The concert was billed to be a "grand benefit concert with a splendid programme". It was reported that when the tickets went on sale they were sold within a very brief period and that there would be a re-sale of tickets.3
The community held a Bazaar in the Shire Hall. Miss Reynolds again requested the free use of the Shire Hall from the Moorabbin Council, for a benefit bazaar, to be held over two days on Friday 16 to Saturday 17 October 1914. This was agreed to4. The Bazaar raised around £80.
The Methodist Minister, Mr C. Fowler wrote letters to newspapers to ask for support from people outside of the Moorabbin district.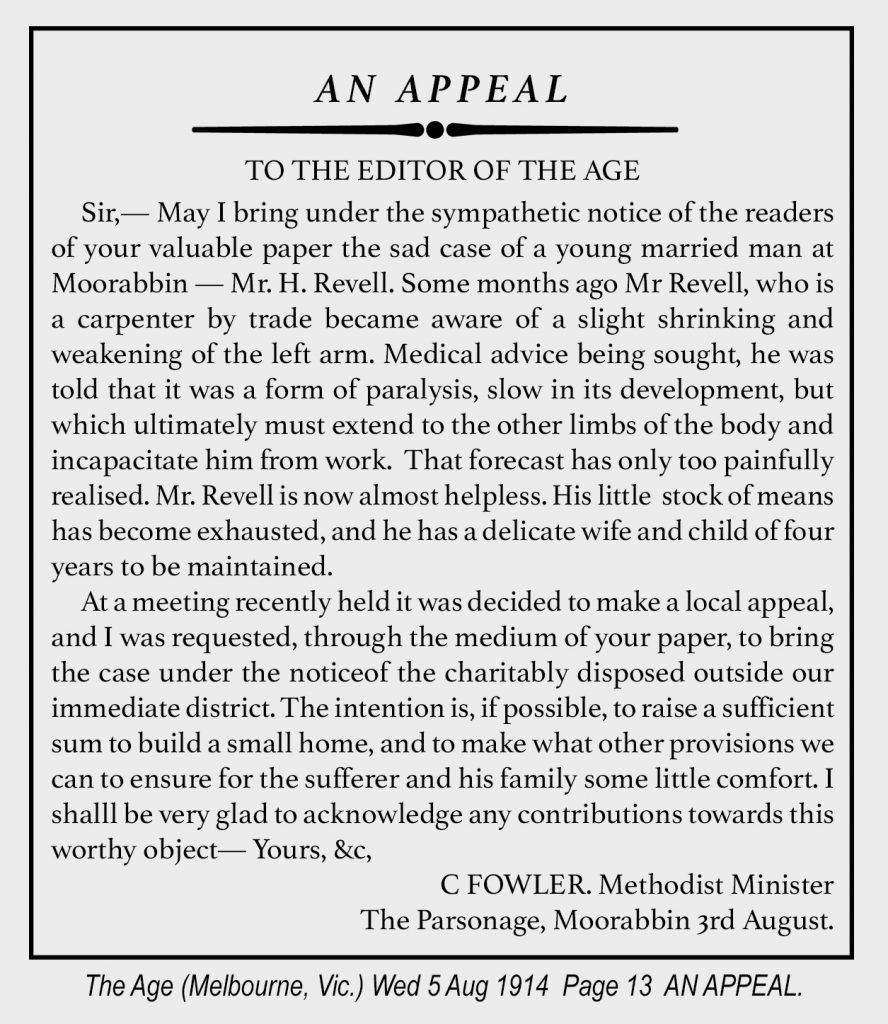 The efforts raised a total of £185 enabling the committee to purchase a block of land in Pine Street, Cheltenham for £20 and erect a cottage valued at £135. The balance was paid to the family at the rate of £1 per month, while it lasted.
Further Reading